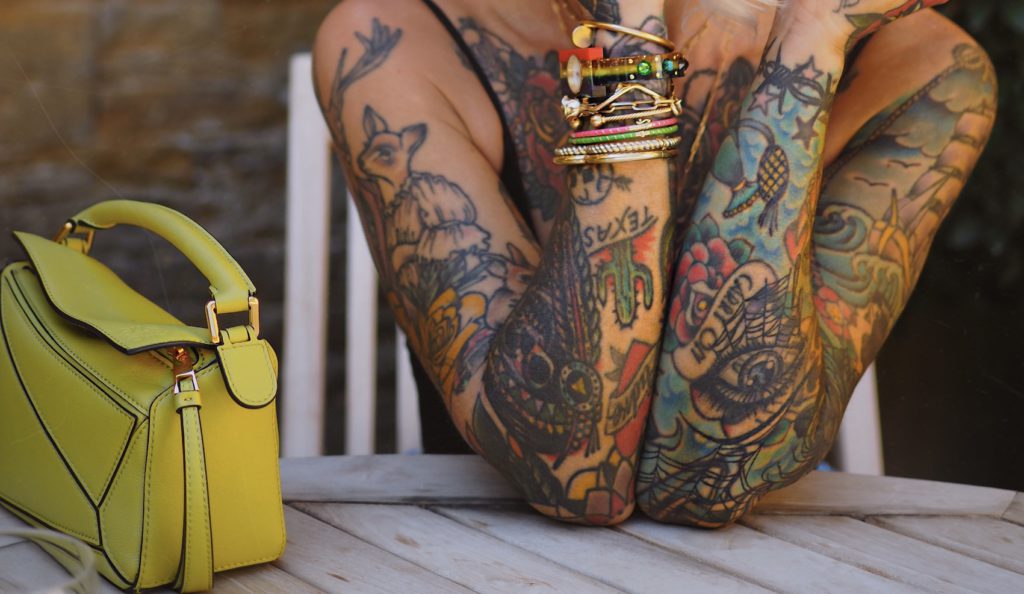 It's been an excellent time for outfits.
Warm weather has allowed for a lack of layering and jackets – jackets may be my favourite clothing item, but it's been a delight to have a break from them. Combining crop tops with high waisted trousers and shorts has been a standard go-to, whilst adding a plethora of colourful accessories.
I always feel it is key to recognise what you feel good in: what style of outfit makes you want to get dressed everyday? What makes you feel most like 'you'? Personally, high waisted trousers and platform boots always win. I'm also obsessed with cuts of garments that feel best on me, and as I have been able to own more key staple pieces, I acknowledged years ago I would rather have one perfect black high-waist trouser than 10 poor fitting pairs. With this in mind, let's get into some summer looks.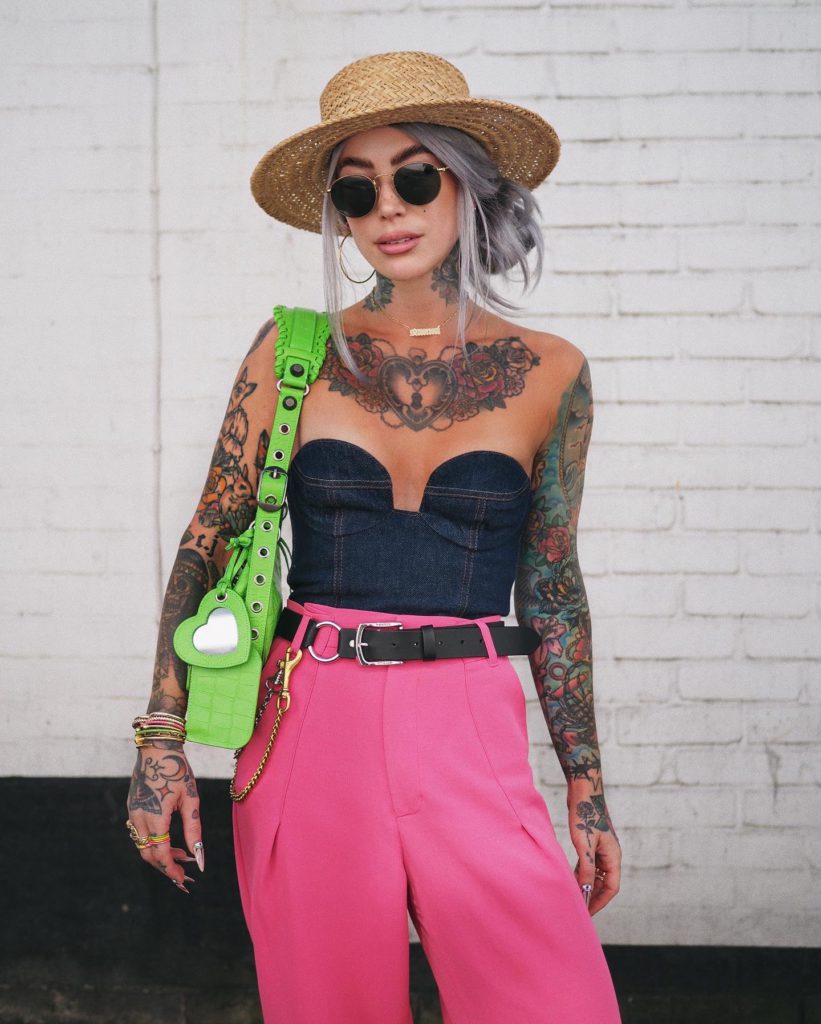 This Magda Butrym bustier worn above has been a true hero piece of the summer. The fit is tight and doesn't allow for any slipping moments, and the denim fabric combined with strong brass back zip pleases me. It's definitely up there as one of my most worn pieces this season and remains so versatile.
Rarely without leather and chains, I'm always reaching for my Loop Leather Belt – an everyday essential leather item for me – love it against the vibrant pink.
SHOP THE LOOK: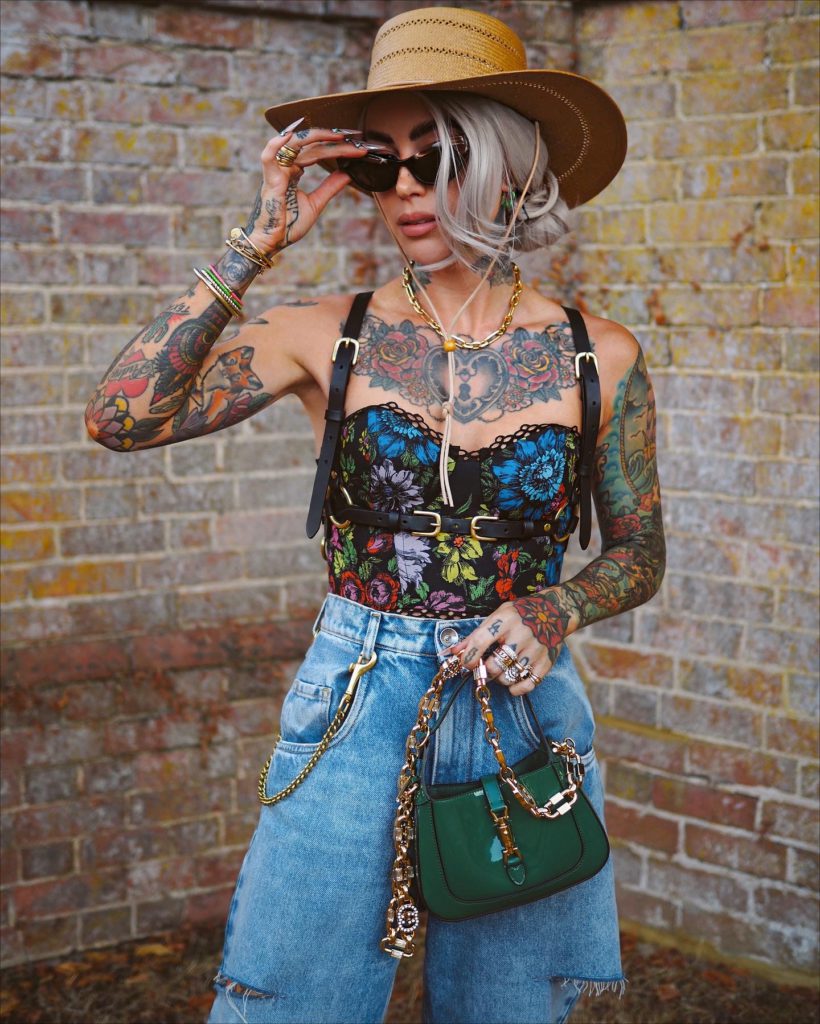 Oh, that Gucci Mini Jackie. Like a piece of jewellery intertwined with a bag, it really is a piece of art. Likely up there now as one of the least practical bags I own, I still just truly adore everything about it. The patent leather shine, the over-the-top logo chain strap, the closure: it all works so beautifully and seamlessly together. Debuting this summer, I feel it is going to absolutely shine with outfits come autumn/winter.
Contrasting the luxuriousness of the Jackie are my ever-loved distressed Maison Margiela jeans. Lemme tell you about the cut of these – they're a 90's does 2022 delight, with fitted high waist, thigh cut detail and baggy fit. May it be said that whilst I've never been a jeans person per-se, I have reached for these more times than I can count on more chilled outfit days; or almost to 'tone down' an outfit – as above.
Whilst I tend to shy away from print, there was something about the mixture of tones in this bustier on the black that really drew me in. Again, back to cut and fit; this piece fits so beautifully and feels so great to wear. This is definitely a piece I'll still reach for as the weather cools.
SHOP THE LOOK: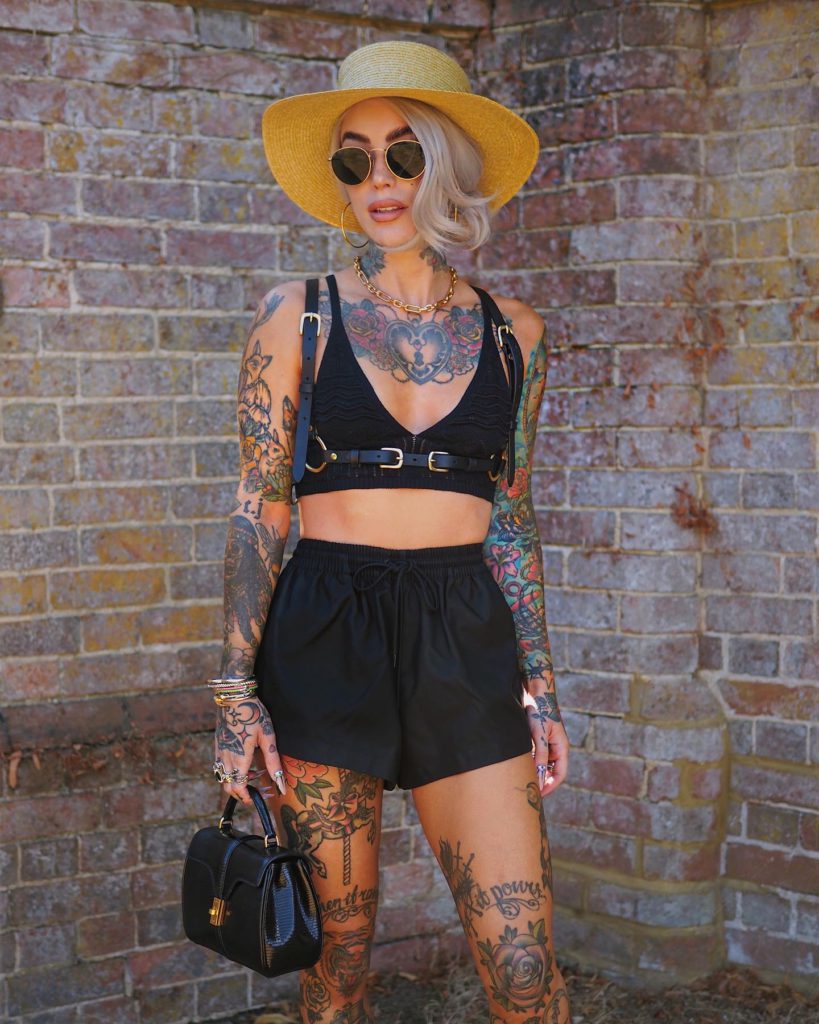 The forever fail-safe, an all black outfit.
Anna Wintour and I certainly disagree on this one. There is nothing like an all black look in my opinion, and it's one I always feel comfortable and myself in. As always with all black looks, I love combining textures and putting different black materials alongside one another. The shorts above are nylon, combined with a light knitted bralette, and bold leather harness. Three very contrasting black materials.
I'll leave with this note: dress for yourself.
SHOP THE LOOK: