I may have mentioned once or twice that autumn is my fav time of year. Halloween, rusty colours, birthday month (heyyy) light layers…it's just so beautiful when everything is dying. Ha.
So, this being said – I thought I'd do something a little different from my standard 'here's 3 pics of what I'm wearing' post & create an autumn edit for your perusal. Let's get into it…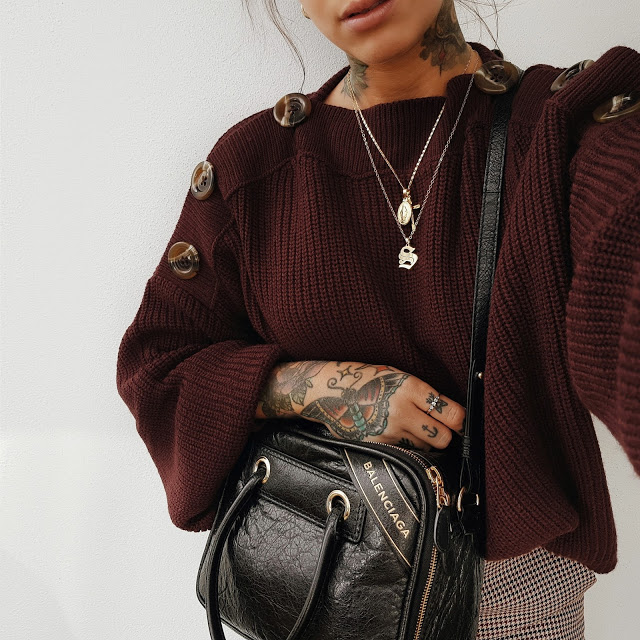 1) Knitwear – an obvious one – but most def worth a good mention. Jumpers, cardigans, turtlenecks in blacks, deep reds and mustard tones…these will be items you'll pick up again and again over the cooler months.
2) Blazers – the easy way to make you look put together when you totally don't feel it. Personally, I'm a big fan of a velvet blazer – but houndstooth, plain, checked…you name it, as soon as you own one, you'll be seeking your next. Great with denim, skirts, pinafores, vinyl…everrrrything.
3) Pointed Ankle Boots – elongate your legs and feel mega fancy. A solid wardrobe staple, and will see you through spring. High on my wish-list are these Balenciaga babies.
4) Black Denim – the one you can wear pretty much anywhere, depending on how you style it. I love the TopShop Mom Jeans – high waisted and a killer washed look. With a chunky knit for a relaxed weekend, and a tucked in tee, blazer and previously mentioned boots for that date night.
5) Hats – overall, a lot of people seem to think they 'can't wear hats'. Firstly, I 100% don't believe in not being able to wear stuff – you can wear whatever you please. Secondly, I shall run you through why hats rule – a) bad hair days – gone, b) cold head? Ears? Problem solved, c) feel your outfit is a little…off balance? Hats create a great balanced silhouette…like, in my opinion.
6) Bags – OK, OK. I was always gonna mentions bags because – BAGS. However, ponder on this – it's cold. You're wearing that same coat again, hiding that outfit you so wonderfully put together. Add in an excellent bag you possibly saved half a year for, et voila! Outfit looks spot on. Velvet, quilted and gold is perfection for this time of year.