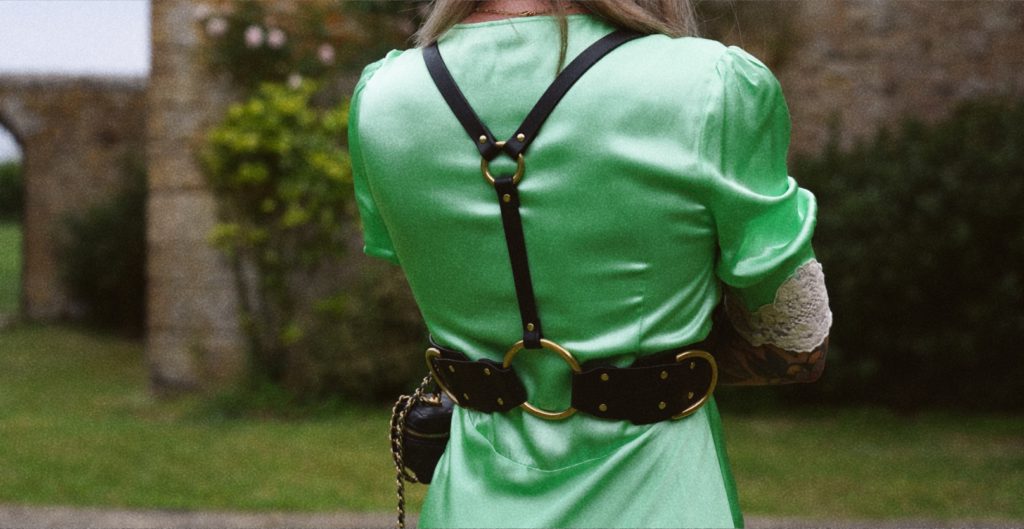 Sometimes, you stumble across a clothing item and it's a zero hesitation moment – you add to cart, and the rest is history.
This was the speedy tale when my eyeballs landed on this Rixo green maxi dress.
Not only did it appeal to a deep adoration of 90's babydoll aesthetic, but being in a colour I have such an obsession with, meant it had to be done.
The collar and puff sleeves are finished with contrasting white lace – not too delicate either – the matching fabric covered buttons continue all the way down the dress, with a concealed side zipper for ease. The flow of the viscose fabric makes it a total dream to wear.
Naturally, it's a pretty feminine number, and it can totally be worn just that way…but…I needed to edge it.
Layered with a leather harness over, alongside a leather beret [always about a texture moment] and high platform wedges, it definitely strikes a different chord to being worn with simple strappy sandals or flats, a la most ways I have seen it styled.
The Saint Laurent Tribute sandals, by the way…I don't know what took me so long. Obviously they have a Saint Laurent price tag, [heads up, new orders on Net-A-Porter get 10% off with code 'FIRST10'] but they are a dream summer shoe. I always go for a platform, and as much as I love silver & gold hardware, I also am always here for an all black moment. To me, the all black version is the one, the others didn't stand a chance – it totally makes them look less twee, less summer, being all black. They are also mega comfortable & I seriously recommend them. Can't go wrong with Saint Laurent, six words I stand by.